Creating a loyal client relationship requires great personal performance and great technical performance. Customers actually sometimes care less about what they ask for than about how they are treated. We can never achieve a high level of customer loyalty without providing both.
Customer loyalty is the ultimate goal for an organization. A satisfied client just isn't good enough. A loyal client will do a lot more for us than a satisfied client. Loyal customers won't leave us for a slightly better price, or because we made a mistake, but satisfied clients often do.
Technical vs. Personal Performance
Technical performance is all about the project. It's objective and quantifiable. It's measured in how well the job is done. Technical people, for the most part, are not relationship-oriented, but instead measure their worth by way of a job well done. A "techie" will generally tend to avoid clients if he doesn't have anything concrete to show them.
Personal performance, on the other hand, deals with how our clients feel about our work. It is subjective and intangible. It establishes, then nurtures, a relationship and forms the glue that binds a client to our business. A stellar relationship will make occasional technical slip-ups bearable, and they may even deepen the relationship by demonstrating our depth of integrity.
It's not enough to acknowledge our clients' concerns. We need to care about what our clients care about on a personal level to breed loyalty and trust overall.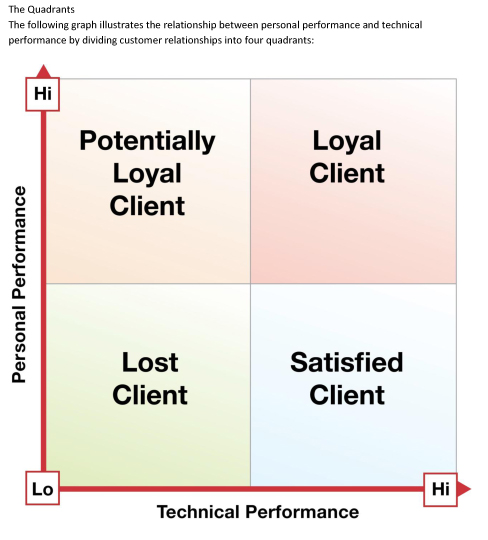 We'll use a client/service provider example to illustrate the different categories.
On her way to work one day, Laura snags her favorite bracelet on the hinge of her front door, causing the clasp to break and beads to spill all over the floor. In a hurry, she scrambles to collect the pieces and shoves them into her purse. On her way home from work, she stops at Pete's Jewelry Repair Shop.
Scenario #1: Low Technical/Low Personal Performance (Bottom-left Quadrant)
Laura explains the situation to Pete, emphasizing that this bracelet was her grandmother's and is very important to her. Pete examines the bracelet and tells her not to worry. He will have the bracelet looking as good as new by the same time tomorrow. Delighted, Laura thanks Pete and returns home, glad to have taken care of the problem so quickly and easily.
The following day, Laura has a dinner party planned immediately after work but is anxious to pick up her grandmother's bracelet. She asks her boss if she can leave the office a few minutes early and heads directly to Pete's. "Oh, Laura," he says, "your bracelet isn't finished yet. You see, I tried to bend the broken clasp back into place, but it snapped in half. I ordered another clasp, but it's going to take three to five days to arrive. I would've called you to let you know, but I forgot to take down your name and number yesterday."
Laura sighs, frustrated. Pete may be a nice man, but now he doesn't seem like the most professional jewelry repair man. Not only was he unable to fix a common jewelry problem, but he also didn't have the foresight to take down her contact information in case a situation like this arose. Laura has doubts about his craftsmanship and his business sense, and decides her best bet would be to collect her broken bracelet and bring it to another jeweler.
Pete has not only broken her bracelet further, but he's also broken his promise to Laura about when it would be ready. On top of that, he neglected to take down her number so he could notify her of the delay and cost her work and personal time.
When there is both low technical and personal performance, we are neither getting our work done right nor communicating with clients adequately. We should strive to never be in this position because we will lose customers quickly.
Scenario #2: High Technical/Low Personal Performance (Bottom-right Quadrant)
In this scenario, Pete tells Laura he will complete the work "in no time" and give her a call when it's done. But it's three days later and Pete still hasn't called. Laura wonders if she should call him, but then thinks that maybe she's expecting too much. He said it would be done "in no time," but she's not sure what that means exactly in the jewelry business. She decides to let it go for one week.
A week and two days later, Laura still has not received a phone call from Pete. Exasperated, she drives to the store after work. Pete says, "Oh, there you are. I have your bracelet for you right here." "It's done? Why didn't anyone call me?" asks Laura.
"No one called? I thought I told my assistant to call you." He turns his back to Laura. "Tom," he shouts, "didn't I tell you to call this customer when I finished that bracelet last Wednesday?"
"No," his assistant shouts back.
"Sorry about that, Laura," Pete says with a frown. "I've had it ready for you for almost a week now. I thought Tom called you."
The bracelet looks as good as new, but Laura can't help but be bothered. Every day that she didn't have the bracelet, it's absence on her wrist was a constant annoyance. Every day that she didn't get a phone call, she became a little more anxious. And Pete, although friendly, didn't seem to care all that much about causing such a long delay. She decides that the next time she needs jewelry repaired she'll try the shop down the street instead.
In this case, Pete is technically sound but personally incompetent. He tries to pass off his ineptitude on his assistant, but that ploy fails and makes him look even worse to Laura. She should never be in the position of having to feel as though she's expecting too much by wanting to hear from Pete. It was Pete's job to let her know that the bracelet was ready and he failed miserably.
We land in this section of the graph far too often with our clients. The work is there, but the personal performance is off. We may get the project completed perfectly and punctually, but then forget to tell the client that it's done or fail to return their phone calls. Trust evaporates quickly because the customer feels the need to constantly check up on how things are going, and that shouldn't be their responsibility. They may be satisfied with the work we've done, but we can't count on them to be loyal because they don't enjoy working with us. The next time, they may choose to go with someone else.
Scenario #3: Low Technical/High Personal Performance (Top-left Quadrant)
In this scenario, Pete tells Laura he can complete the work by the next day. He gets Laura's contact information and gives her an estimate. The following day, he calls Laura before she makes plans to leave work early to pick up her bracelet.
"I'm sorry for calling you during work hours, but I wanted to contact you before you left the office," says Pete. "While I was working on your bracelet this morning, the clasp broke in half. I have ordered a replacement clasp that will be delivered here within five business days. When it arrives, I will replace the broken clasp free of charge. I'm sorry for any inconvenience that this may have caused."
Laura thanks Pete for saving her the trip. "The wait is no problem. Just give me a call when it's
finished," she replies.
Although Laura didn't get her grandmother's bracelet back on the day she expected, Pete has earned her trust by letting her know about the problem before it could cause her any inconvenience. She realizes that it was an old bracelet and that the clasp was probably very worn out, so she isn't angry about the situation. Because Pete earned her trust, Laura plans to return to Pete's with any future jewelry problems.
Because of the way this situation was handled, Pete's failure to fix the bracelet actually improved his relationship with Laura, since he demonstrated his depth of integrity. While he may have failed technically, he soared personally. The technical failure combined with the personal success is the perfect prescription for an upper-left quadrant scenario because an amazing customer relationship will always breed comfort.
When we have this kind of scenario, we are performing well personally with the client. We may be messing up some of the technical aspects of the job, but we are at least contacting clients ahead of time to inform them of any delay and then following up with a phone call. They trust that we will do not only what we've set out to do, but also that we'll communicate with them in a timely fashion.
Scenario #4: High Technical/High Personal Performance (Top-right Quadrant)
In this scenario, Pete calls Laura at 10 a.m. the day after she drops off the bracelet. He says that it is repaired, so if she'd like, she can pick it up during her lunch break instead of after work. Laura is relieved that she doesn't have to leave work early and rush around before the dinner party because she's so anxious about her grandmother's bracelet. Pete has saved her an awful lot of inconvenience.
At lunch time, Laura walks into the shop, and Pete has her bracelet ready for her. It looks as good as new. He clasps it onto her wrist so she can admire it. They have a nice conversation, wherein Laura expresses her pleasure that the bracelet was able to be fixed and that she is impressed by Pete's service. Laura is thrilled with the entire transaction, from start to finish. She decides to recommend Pete's Jewelry Repair Shop to all of her friends at the dinner party that night.
This quadrant is the best of all possible worlds. Not only has Pete's performance been technically sound, but he has performed personally well with Laura. He has earned her trust, and he's gained a loyal client who will likely market his services to her friends and family. No coupons or discounts will pull her away.
When we perform technically and personally at this high level in our company, we are in integrity, technically sound and communicating effectively with our clients. We are setting deadlines, meeting them, following up on them and breaking no promises. This is where we should always aspire to be.
© 2012 Ralph Dandrea. All rights reserved.