Affinity is a term that is bandied about without much thought behind it. So what is an affinity?
Affinity is a liking for or attraction to a person, thing or idea.
In short, it's a connection and our connection to our clients is instrumental in our business success. Affinity is what keeps our clients returning … the feeling that we understand them and they us.
It is a team feeling, one of common ground and understanding. It's when someone says, "I know exactly what you mean!"
Ideally, affinity should be a two-way street not a dead end, one way road. And when it's at its best, the client/business relationship is joyful and symbiotic. We care about our clients and they care about us. Everyone should view their clients this way and be proactive in caring for their core concerns.
When affinity is at its lowest – the client doesn't care and neither do we – it's like ill-fitting dentures. Nothing is right and it's always painful to deal with. We get to the point where we're asking why we bother keeping this client around when it's clear that we are of no value to them.
Working to Improve Affinity
Let's begin our discussion of affinity by looking at the following scenario:
Sara has just been diagnosed with fibromyalgia and counts on our client, WebDoc, for increasing amounts of information. She wants updates and news of new pharmaceutical human trials because she'd like to participate in one.
WebDoc relies on Servers Plus to keep their servers and hosting in top shape so Sara – and the millions of fibromyalgia sufferers like her – can keep current with the latest research and information. WebDoc wants to be the only medical search site that Sara relies on.
The following chart shows the relationship between and the results of our affinity towards the client and the client's affinity towards us: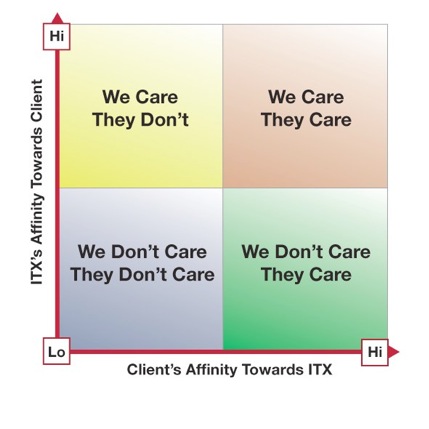 Scenario #1: Low Affinity Toward Client and Us – Bottom Left Quadrant
This is a no-win quadrant for everyone involved. The real question we have as a provider is whether we really want the client we're dealing with. There are some common obstacles we'll both have to leap through to make them a client we care about but aren't sure we want to take the time or effort.
Sara has a flare up that is different from the ones she's had before. Because she has relied on WebDoc in the past for reliable, up-to-date information, she goes to the site again. This time it's 3 AM and she's in excruciating pain and hoping for, at the very least, some kind of explanation she can relate to that will ease her mind.
Sara knows that some of the pain comes about because she worries so much about it but she also knows that the pain isn't all in her head. When she lands on her favorite site, she sees a site maintenance notice advising that WebDoc would be down from midnight to 3:30 AM in her time zone. While frustrated, Sara decides she can wait another half hour and decides to read while she waits.
She gives it an extra 15 minutes, knowing that sometimes it takes a bit longer to get a site upgraded with new information. By 4 AM, the site was still not back online and she was starting to panic. She sends an email to client support through her own email account and waits for an answer.
WebDoc's webmasters see the flood of emails coming in about not being able to access the site and want us to respond quickly. We get to it when we can and have the site back up by the end of the day. WebDoc has called a few times – without a returned call — but Servers Plus's only advantage is their cheap price. For a while, WebDoc might figure that they'll deal with the aftermath even if they bleed subscribers.
The client in this quadrant is the most difficult to deal with because no one cares about anyone else which is obvious from the fact that Servers Plus hasn't bothered to call WebDoc and WebDoc isn't putting the heat on Servers Plus. It's a lose-lose for both sides due to apathy.
Sara has been let down by WebDoc because she couldn't find an answer to her new pain fast enough to give her peace of mind. Servers Plus has let WebDoc down because, well, they just couldn't care less about their clients' needs which is found in our inability to get the site maintenance done on time.
What can be done about this relationship? It's a horrible fit at best because of the following obstacles:
WebDoc isn't worth the time – Servers Plus is not making enough money on the account to make it worthwhile. WebDoc fails to perform by allowing Servers Plus to not acknowledge their lack of responsiveness.
Servers Plus sees WebDoc as idiots – In the past, they've made Servers Plus feel unimportant by ridiculing their service. In fact, it's become one of their favorite pastimes and that just layers the annoyance
When there is low affinity from both sides, we don't care about the client and the client doesn't care about us. Any hopes for a decent working relationship are dashed due to the lack of commitment and concern on the part of the client and the company.
Lack of responsiveness is a symptom of low affinity. We can't get answers to the questions we have and vice versa. The relationship becomes one of just doing enough to get by rather than being proactive to make it better. The client would only put up with our lack of responsiveness if we're the cheapest game in town and they're getting what they pay for. But they'll leave in a heartbeat for someone cheaper or better.
Is there a resolution to this problem? Yes, and it's raising our effective price to the point where the client will either be more responsive to our needs for information in order to give them better service or they'll move on and leave.
Scenario #2: Low Affinity Toward Client/High Affinity Toward Us– Bottom Right Quadrant
This quadrant has high affinity from our client but low affinity from us. This is how it might shake out for WebDoc:
Same scenario as #1, but this time WebDoc is rabid to get the problem fixed. They call in to the Servers Plus office at 3:35 AM when the site hasn't come back online and get voicemail.
"Hi, this is Don from WebDoc and our site maintenance was supposed to be finished by now. I know it's early in the morning but we do have clients in other time zones that want access to our information. Also, it's imperative that all of the new articles sent to you two weeks ago are placed online in the correct sections. Last time we had to bug you to get the pieces put on the pages they were meant for. Please call me right away at 555-993-0500, extension 3435. I'll call you back if I don't hear from you soon."
SP gets the message but is busy doing other things and will get back to them as soon as they can. After another three voicemail messages from Don, SP finally gets back to him and tell him they are working as quickly as possible and should have the site back up shortly. In fact, it takes another day to have the site back online.
Clearly, WebDoc cares about Servers Plus and our service to them; Servers Plus couldn't care less about WebDoc.
The problem, though, is that if we neglect a client long enough they could shift over into the lower left quadrant of low affinity between client and company. Another problem that is plaguing us in this situation is that a client in this quadrant isn't likely to make the investment to move on. Why? They like us – we're bigger and cheaper.
So why is the client "underperforming" for us? Because they're not financially feasible. We don't charge enough to have them be worth our while. That makes it a difficult situation at best because without a higher effective price, the work is pretty meaningless. A symptom of low affinity from the client towards us is their lack of acknowledgement of a job well done.
Is there an answer for a client like this? The best answer is to raise the effective price to offset the annoyance. The client could be redeemable if we're charging enough for our services.
Scenario #3: High Affinity Toward Client/Low Affinity Toward Us – Upper
Left Quadrant
This quadrant is the reverse of what we just talked about. In this situation, we care very much about the client but the client doesn't care much about us. This is where service comes into play, including how we can address a client's core concerns more productively and proactively.
Here's how this would play out for WebDoc:
Same facts as scenario #2 but with this twist: We've returned Don's call promptly and received his voicemail. We've even called his cell and when he finally answers, he's annoyed that we've tracked him down this way.
"Who's this? Where did you get my cell number?"
"Don, this is Mark at Servers Plus. I'm sorry to call you on your cell but I got your voicemail when I returned your call." "Oh. How did you even get this number?"
"You gave it to us for times when we couldn't get you on your direct line," Mark replies.
"Oh."
"I just wanted you to know that we're nearly finished with your site upgrade and should have you back online within the hour. All of the articles have been loaded and, since we were unable to get you back online by 3:30 as promised, we're giving you a discount on next quarter's bill."
"Oh. Okay. Thanks." Click
Clearly, Don isn't impressed with the fact that Mark has done everything he could to track him down and deal with his core issues. In fact, he was quite underwhelmed that Mark had offered a discount without first being asked to do so.
How do we get a client like that to care as much as we do? We must become more strategic and find ways to support them in delivering what their clients want. In the case of WebDoc, the answer may be found in how we deal with their clients' needs for information.
We could make finding the information much easier and develop an application that makes connecting and interacting with WebDoc simple.
This kind of client is a huge challenge because we're trying to serve them by helping their clients and that's a bit like playing telephone – sometimes it's hard to service all of them well because the message is garbled in the transmission from their client to our client and on to us. This client is quick to complain but not quick to praise.
We need to have our client see us as instrumental in resolving their core concerns and not just an option to use occasionally. We must be instrumental in helping the client to create value for its customers. Once this happens, this client will move from the upper left quadrant to the upper right.
Scenario #4: High Affinity Toward Client and Toward Us – Upper Right
Quadrant
Being in this quadrant with a client is pure symbiosis. The relationship is joyful, with mutual care and concern on both ends. This type of relationship can only exist if we take on the client's concerns as our own.
However, this does not mean that you can sit back and relax with this client. You must always strive to maintain a productive and rewarding relationship. It's like marriage: the hard work starts when you put the rings on.
Here's how this scenario would play out between Servers Plus and WebDoc:
Same scenario as #2 but the conversation is much, much different: Mark gets Don on his cell phone to tell him that the upgrade is nearly done.
"Hey, Mark, wow! I'm really impressed that you went the extra mile to find me. My voicemail is on because I'm hip deep in another problem."
"No problem, Don. You're a valued client and we want to make sure you're properly taken care of. The site upgrade took a little longer than I anticipated it would so I want to help you clean up the impact it had on your business."
"Well, thanks, but I certainly understand how you can get backed up. It's really no problem"
"I'll even go one better – let's plan to talk next week about how we can help you serve your clients even more."
This scenario not only shows Servers Plus as being the reliable company for WebDoc but they've offered to get together with the client to talk about any other concerns that may have cropped up since the site upgrade to help keep the relationship moving forward. We need to be proactive in this relationship and not wait for a complaint before responding and reacting to the client.
It's this kind of work that will help us keep our clients in this quadrant. We need to continue to be instrumental in fulfilling their core concerns and, especially, proactive in our approach to their company. If we don't work at this relationship, it will wilt and die and slowly creep over into the upper left quadrant.
It's all about maintaining the relationship and helping it to flourish. When affinity is high for both sides, the relationship will grow and thrive. Not only is the client getting what it paid for, we're receiving a reasonable effective price for the work we do.
© 2012 Ralph Dandrea. All rights reserved.